News
21 June 2015
REFUGEEUM-Release-Shows Fall 2015, presented by RockHard, eclipsed-Rock-Magazin and Powermetal.de:
11.Sept. Cologne (MTC)
12.Sept. Muenster (Gleis 22)
16.Oct. Luebbenau [close to Berlin] (Kulturbahnhof)
17.Oct. Leipzig (Villa Leipzig)
30.Oct. Ahlen (Schuhfabrik)
10 June 2015
Pre-Order your copy of "refugeeum" NOW!
you can PRE-ORDER our new album REFUGEEUM now in our bandshop. Release date is 24th july but you can order now and get your copy in time until/before the 24th july. We offer superheavy classic black double-vinyl incl. free CD, a special strictly limited edition of WHITE vinyl (2LP, superheavy, free CD) and a traditional digisleeve-CD. Go, make your choice!
22 May 2015
REFUGEEUM Tracklist
BLACK SPACE RIDERS new album "REFUGEEUM" will be released on the 24th july 2015 via Black Space Records / CARGO Records. An album and a statement .... about refugees, expulsion and escape. Please have a look at the great cover artwork by our dear friend Jakob Maser. This is the tracklist:
1. Vortex Sun
2. Universal Bloodlines
3. Born a Lion (Homeless)
4. The Lure (Come with us)...
5. Run to the Plains
6. Curtains of Death
7. Melek´s Lament (Yazidi Tears)
8. Walking Shades
9. Ritual of inner Strength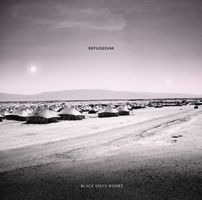 09 May 2015
"REFUGEEUM" - new album this summer
"REFUGEEUM" is the title of BLACK SPACE RIDERS' new album which will be released this summer. It's an album about refugees ... about expulsion and escape.