News
13 December 2013
Tracklist and cover
D:REI is going to arrive soon (24/01/2014). Time to share the Cover-Layout and the tracklist with you!
D : DEFIANCE
1. STARE AT THE WATER
2. BANG BOOM WAR (OUTSIDE MY HEAD)
3. RISING FROM THE ASHES OF OUR WORLD...
R - RUINS
1. GIVE GRAVITATION TO THE PEOPLE
2. WAY TO ME
3. TEMPER IS RISING
4. THE GOD-SURVIVOR
E - ESCAPE
1. I SEE
2. LEAVE
3. SPACE ANGEL (MEMITIM)
I - BEYOND
1. MAJOR TOM WAITS
2. LETTER TO A YOUNG ONE
3. THE EVERLASTING CIRCLE OF INFINITY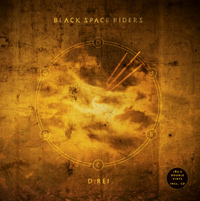 11 December 2013
Lyric video online
Interested in a first impression of our new album D:REI? Difficult to pick a typical song because there is not "THE" typical song on the album ... here's a track called "The GOD-Survivor". Hope you like it and if so please share it around the world!!!! Spread the word!!!!
25 November 2013
Release date and shows
BLACK SPACE RIDERS' new album "D:REI" will be released on the 24th of January 2014. We have decided to keep our independency and all our rights, meaning the album will be released under our own label BLACK SPACE RECORDS. It will be distributed by Cargo Records Germany and different national distributors and mailorders in other countries as well as by ourselves.
We will play three exclusive record-release-shows in Germany:
24.01.2014 Münster / Gleis 22
30.01.2014 Hamburg / Hafenklang
31.01.2014 Köln / MTC Cologne
More tourdates in spring will follow soon.
02 November 2013
New album
Black Space Riders' 3rd full-length-studio-album will be released in the beginning of 2014. It will be titled "D:REI". We are very happy! More details later ...
05 June 2013
Photos from the studio
We have some nice pictures from the recording session in Oldenbourg? Take a look at the new facebook gallery.